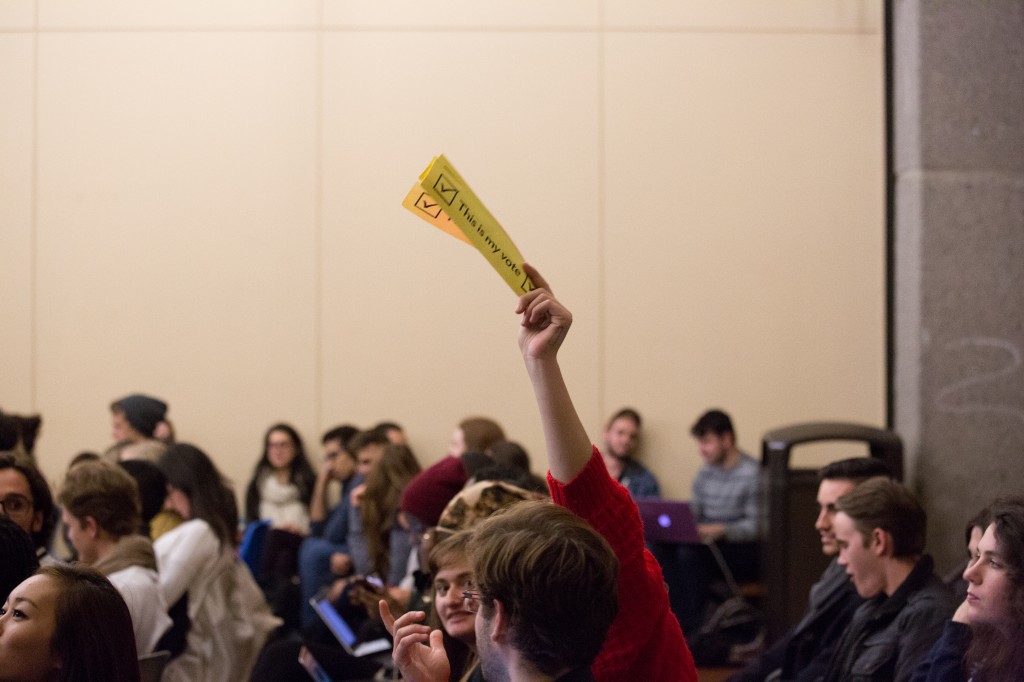 On October 22,2014 SSMU held their first General Assembly for the 2014-2015 academic year. After the Motion to Stand in Solidarity with the People of the Occupied Palestinian Territories was postponed indefinitely, a large majority of students left the GA. However, there were still enough students remaining to reach quorum.
Following hours of debate over the Motion to Stand in Solidarity with the People of the Occupied Palestinian Territories, the SSMU GA continued with students voting on the Motion Regarding Action on Climate Change, the Motion Regarding Support of a Campus Free from Harmful Military Technology Development, the Motion to Stand in Solidarity with Student Protests in Hong Kong, and the Motion Regarding Solidarity Against Austerity. The nominations to the SSMU Board of Directors were also approved. The final item on the agenda was a presentation by SSMU Chief Electoral Officer Ben Fung which outlined the preferential ballot system which is being considered for SSMU elections.
Action on Climate Change
The Motion Regarding Action on Climate Change proposes that SSMU join Etudiant(e)s Contre les Oléoducs (ÉCO), a student coalition that represents over 70,000 students across Quebec. The coalition demands that "pipeline projects in Quebec be blocked, that fossil fuels exploration and extraction projects on the territory of Quebec be terminated, and that Indigenous sovereignty over their territories, and their veto power over resource extraction projects, be recognized" (Motion Regarding Action on Climate Change). The motion also calls on the SSMU VP External Affairs, Amina Moustaqim-Barrette, to bring a policy regarding action on climate change to SSMU legislative council in the Winter 2015 term.
Moustaqim-Barrette stressed that "we cannot be complicit in the funding of the fossil fuel industry which is one of the most evil industries in the world… it is time that students impose a strong voice against this." She continued by asserting that "our government and our policies make it so that we are still reliant and still subsidizing and using these materials." Moustaqim-Barrette was one of parties who moved the motion. Her portfolio would be responsible for the creation of the new policy.
Eric Taylor, an Engineering student, opposed the motion stating that "real climate change needs to come from removing our dependency on oil." Other students were fearful that this could hurt McGill's reputation, citing specifically that many engineering students entering the job market look to the oil industry for high paying jobs after graduation.
The motion passed with 111 votes for, 17 votes against and 16 abstentions. David Benrimoh, the Medicine Senator to SSMU, passionately expressed his opposition towards McGill receiving funds from oil companies when he spoke during the debate period. He stated "I am not willing to sell my soul for the short term economic gains involved from getting money from these companies… You stand up and you suffer and you say no… We have the right to say no to these companies and they will have to change."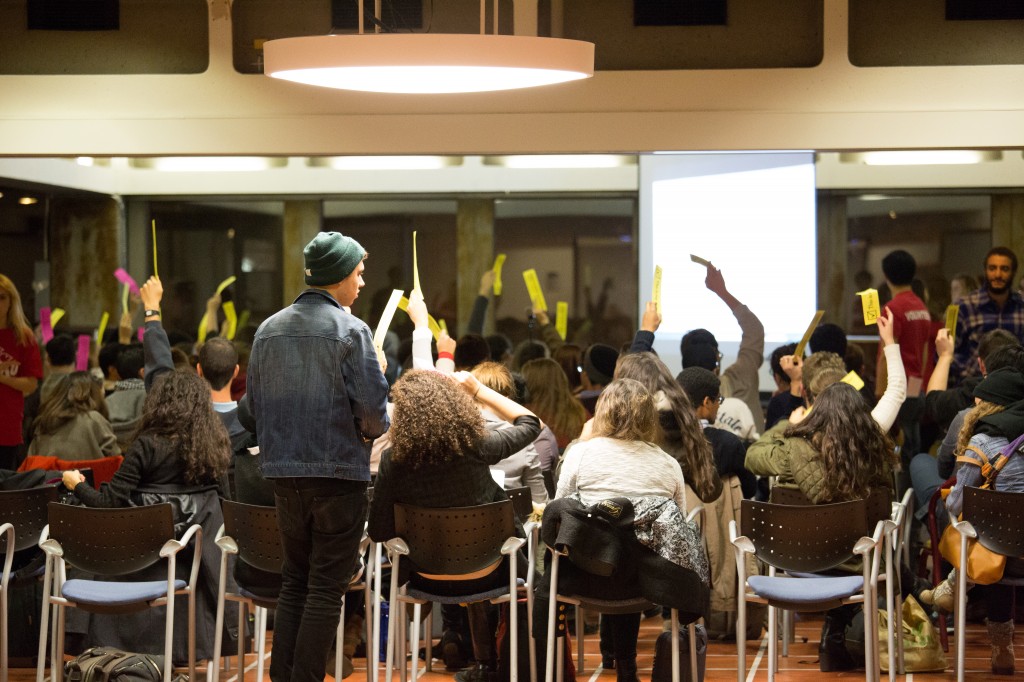 Military Technology Development on Campus
Another contentious topic during the GA was the Motion Regarding Support of a Campus Free from Harmful Military Technology Development. The motion calls upon SSMU to renew its stance of opposition to the development of harmful military technology on campus as well as support campaigns opposing the development of harmful military technology on campus through the portfolio of the VP External Affairs.
Katherine, an Engineering student, raised concerns that "valued professors will go elsewhere and quality of teaching will be affected. Military research has positive impacts on search and rescue and disaster relief. This is more an issue of regulating use not limiting development." Jonathan Mooney, a U1 Law student, asked "how do we distinguish between harmful and non harmful research?"
However, some students do not see the arguments supporting the motion as adequate. Azad Kalemk, a member of Demilitarize McGill, acknowledged that "not all military research is harmful and not all harmful research is necessary related to the military." However, he went on to say the military "is the backbone of coercion, a force that allows fascist and police states to operate. We need to remember that those things happen because the military exists. We need to cut off all ties with the military. Nothing can justify this."
There were two amendments made to the motion by Cadence O'Neal. The first stated that "SSMU supports campaigns opposing the development of harmful military technology on campus through the office of the Vice-President (External Affairs) as well as support campaigns which mobilize in solidarity with the people affected by the use of military technology." The second stated that, "SSMU publicly condemn human rights violations committed by states with whom McGill has collaborated on military research, including but not limited to Israel, Canada, and the United States." It was also added that, "SSMU will include along with this condemnation a list of the relevant military partnerships that they have with these states."
Many students expressed staunch opposition to the amendments. SSMU VP University Affairs Claire Stewart-Kanigan claimed that speaking to Israel after a vote had already taken place concerning military conflict in the occupied territories of Palestine would be undemocratic. She stated "This is not the petition I signed. This is in response to a motion that was previously postponed indefinitely and passing it would be a democratic deficit."
The first amendment was added to the motion but the mover later decided to rescind the second amendment. O'Neal explained her decision to rescind the second proposed amendment, stating "I think it is important to name the states that are causing the violence. I am not happy to remove it but in an attempt to support the work that groups like Demilitarize McGill and SPHR are doing we need to move to make the motion likely to pass."
The motion passed with 146 for, 11 against, and 64 abstentions. Approximately 50 students were allowed to reenter to vote. SSMU voting procedures stipulate that no one enter or exit the voting area while voting is ongoing to ensure proper tabulation. In a debate that followed a request to appeal the decision, students who opposed the allowance thought it was unfair that students who left and did not stay to listen to the entire debate were allowed to vote, while others stressed the democratic spirit and principles of allowing everyone to vote.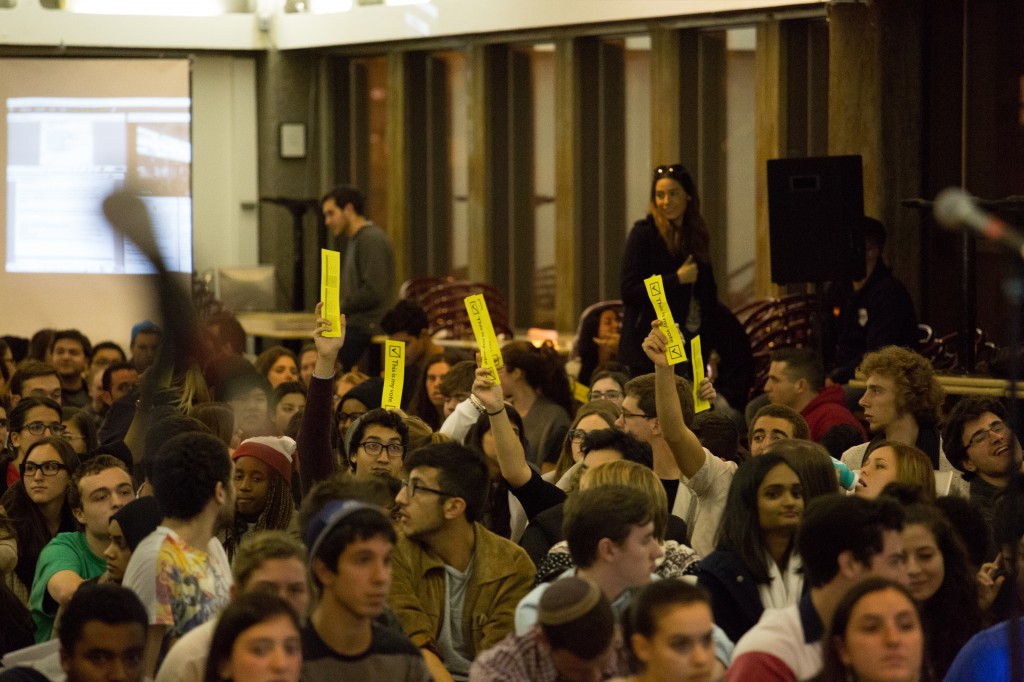 Solidarity with Protesters in Hong Kong
The Motion Regarding Standing in Solidarity With Students and Protesters Demanding a Democratic Government in Hong Kong suggests that SSMU issue a statement of solidarity with the protesters in Hong Kong, condemning repressive actions by the Hong Kong and Chinese authorities, especially police brutality. The motion also calls on SSMU to educate students regarding the issue and provide a brief history of the situation in Hong Kong as well as SSMU's reasoning behind a position of solidarity.
Ava Liu, AUS President, moved to oppose the motion, stating that "students of East Asia deserve a better motion than this. There was no time for yes or no committees to form. I believe students of Hong Kong deserve better." Other points of opposition brought up during the course of the debate included a lack of awareness on the issue, a lack of adequate time to make an informed decision as well as the inability to secure an opportunity for students to voice their opinions.
One of the movers of the motion, David Benrimoh, said that "Hong Kong and the rest of China is not governed democratically, the people there, especially students, have expressed interest in having a democratic government. I see a struggle for democracy by students and by protesters. They have been attacked by police. I would like to stand in solidarity with these students and protesters."
Students ultimately voted to postpone consideration of the motion to the next general assembly by a vote of 105 for and 77 against.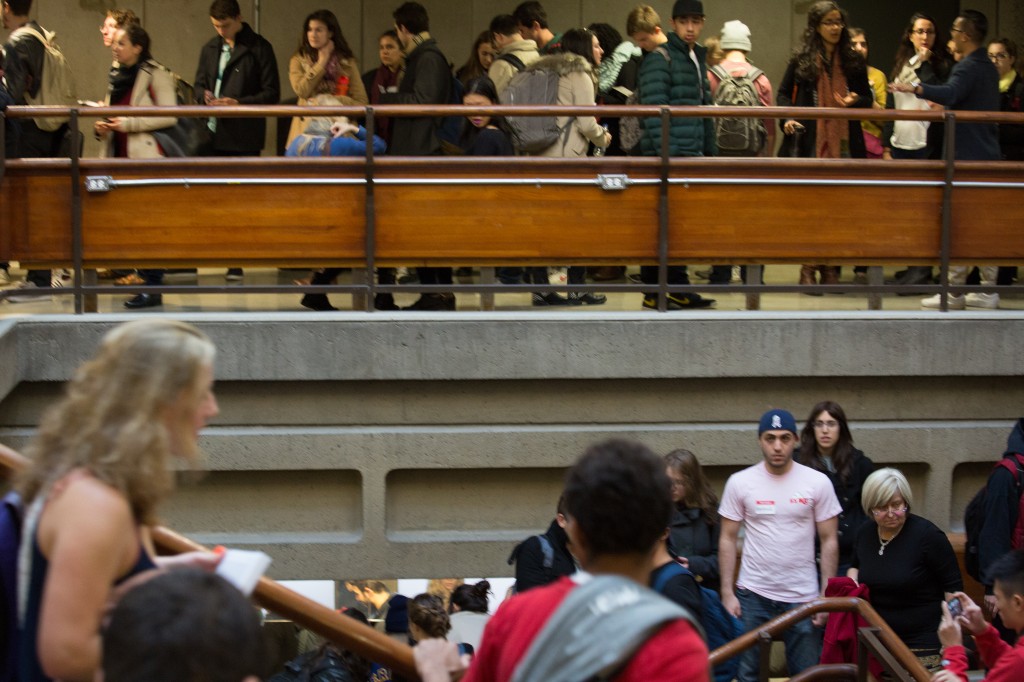 Austerity Budget Cuts
The final motion on the agenda was the motion to oppose austerity budget cuts announced by the current Quebec government. With $14-million being cut from McGill by the provincial government, along with McGill's $7-million deficit, Amina Moustaqim-Barrette stated that "SSMU should take a firm stance against these cuts."
The motion calls upon SSMU to publicly denounce the provincial government's austerity measures against McGill University and "inform and mobilize its members to participate in demonstrations in opposition to austerity measures by working with both student unions and student federations".
In addition, it stated that SSMU encourage its members to attend open forum sessions about the budget cuts to be hosted by Provost Anthony Masi on October 27, 2014. Some students expressed concerned that this would be the first step towards a student strike. The motion was moved by VP Moustaqim-Barrette and councillors Zhang, Sachal, Michaud and Nadifi, it passed with 142 voting for, 14 voting against and 20 abstentions.
The GA was officially called to order at 6:03 P.M. and many students did not leave the SSMU University Center until 12:30 A.M. or later. SSMU President Courtney Ayukawa reminded the crowd at one point during the process that "democracy isn't always easy."