The 18th century-set Venetian operetta, The Gondoliers, opened on Thursday. The production, performed by the McGill Savoy Society, the university's oldest theatre collective founded in 1964, will ferry you through a ridiculous comedy of errors and more ridiculous resolutions. This chipper interpretation of Arthur Sullivan and William Gilbert's production is sure to wear out your vocal cords to two taut strings by mere association with its highly talented operatic actors, while retaining an overall relaxed, happy-go-lucky attitude. 
For those unfamiliar with Arthur Sullivan and William Gilbert, the British composers often wrote buoyant melodies into their work, as well as witty, often silly, comedy interpolated with sharp, social satire, and quippy jesting. The compositions were expertly played by the McGill Savoy Society Opera Orchestra. The story centers on a pair of newly married singing gondoliers, whose satisfying albeit mundane lives are interrupted by some unexpected news: one of them is the unlikely Crown Prince of Barataria, promised to the daughter of the Duke and Duchess of Plaza Toro, but they do not know which. From thereon, chaos ensues. A muddled set of incidents, certainly, but the musical numbers detail the plot points several times and leave no room for confusion.
Everything about it is mismatched and awkward, yet incredibly charming.
The subject matter is dealt with in a meticulous, laissez-faire manner by its cast. This may sound like an oxymoron, but that is precisely what best describes the production. Everything about it is mismatched and awkward, yet incredibly charming. Led by Philippe Courtemanche (Marco) and Matthew Erskine (Giuseppe) who play the beloved gondoliers hoping to do right by their wives and their country, they play off each other's expressions and gestures intuitively. From the start, they are willing to switch wives with each other upon union, accept their positions as king, install a republican state, and again, relent those same positions in unanimous, unhesitant agreement. This is embodied best in the  musical number, "Try we life-long," in which the chorus sings "let us take it as it comes." The encapsulating ending is almost too easy. The audience is left dumbstruck in their seats from how quickly the characters managed to get from point A to point B, giving the impression of a shorter production than the three-hour running-time suggests. 
Everything works.
I was particularly impressed by Natalie Demmon (The Duchess of Plaza-Toro) and Ben Markbreiter (The Duke of Plaza-Toro) for their convincing performances as a married couple. Their dynamic is underlain by mutual resentment, a marvelously embarrassing appreciation for each other, and the illusory heavy hand of the duke, who is clearly under his wife's thumb, brought to docility by only a cautionary glance from the Duchess. It is highly personable and resonant of a real marriage. To boot, each murmur, downturned mouth and leering eyebrow from the Duchess conveyed the implications of the dialogue excellently.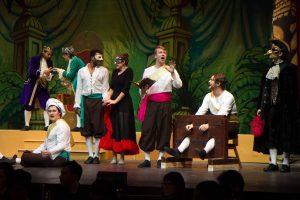 Everything works. Likely because the play is such a clichéd premise, with familiar narrative threads weaving their way through; namely the underdog to wonderdog gondoliers and a star-crossed love that untangles itself through merry happenstance. But, it settles an abject hankering for a feel-good fish story that reminds us of what we often fail to accept in art – it may turn out alright after all.