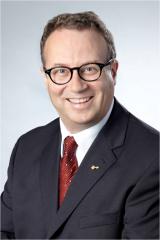 On Friday, January 24th, Desautels welcomed Sobeys CEO Marc Poulin to talk to McGill students as part of the faculty's renowned CEO Speaker Series. Poulin joins a long list of corporate chief officers to offer career advice to students amongst big names such as Brian Fetherstonhaugh of OgilvyOne, founder Aldo Bensadoun of the Aldo Group, and Ellis Jacob from Cineplex Entertainment.
A Montreal native, Poulin holds an undergraduate degree in Actuarial Science from Université Laval and a Masters of Management in Marketing from the Kellogg School of Management. Since then, Poulin has held senior roles at Provigo Distribution, Culinar Inc., and Desjardins-Laurentian Life Group.
Sitting in the Masters Lounge, Poulin discussed his role at Sobeys Inc. and current challenges the company faces as they take on an increasingly competitive Canadian grocery market. Currently, Sobey's Inc. has over 1,500 grocery stores including IGA, Foodland, Bonisoir, and the newly-acquired Safeway locations. Sobey's also owns 330 retail fuel locations, including Shell, in Quebec.
Earlier last summer, Sobeys announced its plans to acquire the Canadian assets of Safeway for $5.8 billion, triggering a trend of industry consolidation; Loblaw Inc. shortly thereafter announced it would be acquiring Shoppers Drug Mart, know as Pharmaprix in Quebec. Working in a small, segmented market, major food players are under increasing pressure to grow via acquisitions and realize cost savings as well as synergies.
Poulin used the recent Sobeys-Safeway merger as a platform to discuss some of the challenges that accompany the trend of consolidation and acquisitions. He discussed the cultural shock his firm faced in integrating the two large companies, and the regulatory compliance steps taken to obtain the final approval from the antitrust authorities: Sobeys was forced to sell 23 locations to reduce their market share in key areas in order to satisfy the regulators.
Poulin also fielded questions about the future of organics in Canadian grocery stores, consumer loyalty programs and issues surrounding sustainability and responsibility when dealing with perishable foods. Addressing the lack of organic products on Canadian shelves, Poulin asserted that tight supply control laws stymie incentives, particularly in the poultry market. "When farmers can sell all of their chickens at the given quota they have no incentive to produce organic food," elaborated Poulin. "Organic products just aren't economically viable for suppliers."
Throughout the discussion, Poulin stressed the importance of environmental and social aims aligning with economic goals. "When we decide to switch to more energy efficient refrigerators we do so because it lowers our operating costs," elaborated Poulin. "If that is also good for the ozone layer that is great too."
The same principle holds true when producing value added products. Shrink or waste products are always a challenge in groceries stores as fresh goods are perishable. To combat this issue, stores turn fresh products into 'value added' goods. Doing so has the dual benefit of ensuring that food does not go to waste and increasing revenues as these goods can be sold at higher prices. "We always have fresh ground beef on our shelves," explained Poulin. "We make meat sauce with the day old ground beef because it adds value to the beef – not solely because it's responsible to use the unsold product."
Poulin explained that such practices have gotten Sobeys Inc. and other grocers into PR trouble recently. Instead of donating unused products to food banks as in the past, food is instead reused within the stores themselves.  "Its not as if we are donating less food because we aren't sensitive to social issues," commented Poulin. "We are repurposing the food within our own stores rather than donating it. Nothing is going to waste."
Poulin's discussion and insights were received warmly by attending students. Moderator Nina Coutinho, an MBA student, sees the series as not only a way to connect with and learn from players in business but also to demonstrate the diversity of degrees and backgrounds present in corporate management. "What I found particularly interesting about Poulin's background is that he didn't take the traditional MBA route into the business word," explained Continho, "He actually has a background in mathematics."
The CEO Speaker Series, organised by the DGSS, invites a different CEO each month to speak with students about current challenges in their industry or specific company. The speaker series is intended to offer Desautels students a personal setting in which to interact with individuals who are influential at the highest levels of business. These intimate interactions give students insight into what it means to be influential actors and leaders in business. "The speaker series is a great way to gain exposure to diverse markets but also influential people," said Cristina Consuegra, a current MBA student. "Retail isn't an industry i'm familiar with so I was interested to hear more about it."
Although the series primarily targets MBA students, undergraduates are encouraged to attend. DGSS will host the CEO of L'Óreal, Jean Paul Agon, on February 14th as the next installment in the 2013-2014 speaker series.