The next generation of politically active McGillians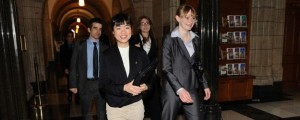 McGill's list of alumni includes a "who's who" of contemporary political luminaries. The likes of Jack Layton, Justin Trudeau and Thomas Mulcair have all walked through the Roddick Gates on their way to class just like any of us. Now, the next wave of politically aware McGillians is entering the fray to make an impact both on Parliament Hill and in their local communities.
The first big splash of the 2010's came two years ago, when five McGill students running as NDP candidates in the 2011 election rode to victory in Quebec's "Orange Wave." More recently, at the municipal level, Antoine Tardif, a U3 Political Science and Economics student, is running for mayor in his hometown of Daveluyville, a town of 1000 near Trois-Rivières. The Tardifs are prominent in Daveluyville: Tardif's father was a councillor, his grandfather owned a successful business, and Antoine himself was a goalie in the QMJHL. If elected, the 23-year-old Tardif would be among the youngest active mayors in the country.
Tardif credits a course on Quebec municipal politics, taught by Professor Éric Bélanger, as a major motivating factor for his involvement in Daveluyville's local politics. "Jacques Drouin, the Quebec general manager of elections, came in and did a presentation in our class suggesting we get involved in municipal politics and run in our hometowns," Tardif recalled. "This was all happening during the Charbonneau Commision, so I started thinking about it then." During the summer, Tardif interned with the City of Daveluyville's Economic Development Committee. He established contacts with local mayors, councillors and economic agencies, all of whom suggested he run in the upcoming municipal election.
As mayor, Tardif hopes to attract investments into Daveluyville's new industrial park, which has cost $4.7 million to develop. Tardif is also looking to finalize a municipal merger between Daveluyville, Sainte-Anne-du-Sault, and Maddington that has been in the works for the last 10 years. Tardif seeks to convince the town's young people to return to Daveluyville once they have received their education. "The youth all go to Victoriaville, Trois-Rivières or Montreal and don't bring back the skills they've acquired back to Daveluyville. By being young, I hope I can convince those students to come back."
The "McGill Five," consisting of Laurin Liu, Matthew Dubé, Myléne Freeman, Charmaine Borg, and Jaimie Nichols, are all currently members of the Official Opposition and many occupy important positions, such as critics in the NDP caucus. Many even claim NDP McGill, the campus club for the New Democratic Party, helped provide them with a launching pad to their current positions on Parliament Hill.
Matthew Dubé, MP for Chambly-Borduas and the Deputy Critic on Youth and Sport, feels his involvement with NDP McGill was central to the development of his career. "I saw a poster in the Leacock building saying to come to Gert's and meet Tom Mulcair. I went down after class and I met Mr. Mulcair and, surprisingly more importantly, the folks involved in the club. I decided to get more involved and I guess the rest is history." Dubé later became co-President of NDP McGill along with MP of Terrebonne-Blainville, Charmaine Borg. Dubé gained experience through volunteering in campaigns, participating in protests in Montreal and getting involved with the JNDQ, the youth wing of the NDP in Quebec.
As the MP for Rivière-des-Mille-Îles and the Deputy Critic on Science and Technology, Laurin Liu holds the honour of being the youngest woman ever elected to Parliament. Liu was a member of NDP McGill from the beginning of her undergraduate degree and later became the co-President of JNDQ. "At McGill I was involved with local issues around Montreal, like food and poverty, issues which hit close to home," recounts Liu. "I feel extremely blessed being in this role– to speak for my constituents and defend issues that are important to me as a woman and as a young person."
Of course, running for office is not the only way to get involved politically. The vast majority of students demonstrate their civic engagement by volunteering and interning. These opportunities are not isolated to the NDP either, as the other major parties are represented through Liberal McGill and Conservative McGill. Each club provides students their first forays into Canadian politics and allows for a space to gain experience in policy development.
According to Nadia Kadri, President of Liberal McGill, the mission of the club is to allow for students with an interest in politics to make steps towards involving themselves on a higher level. "An important goal of our club is to get students more involved in Canadian politics as a whole by providing opportunities to expand their networks, gain campaign experience, and getting a chance to contribute to policy development."
Echoing Kadri, co-President of NDP McGill Caleb Holden states, "We are trying to extend a hand to people who haven't had experience in politics. We try to provide windows for people who have even the slightest bit of interest. We want to give them that next step."
These clubs seek to provide the foundations for students' political aspirations by providing a wide degree of volunteer experience on campaigns and office work for politicians. According to McKenzie Kibler, President of Conservative McGill, campaign work is an absolute necessity towards building the foundation of every political career. "People view politics as all about becoming a politician and being elected, but there are a lot of ways to get involved that become stepping stones to something much greater. The biggest way is by gaining volunteer experience on the campaign trail: going out knocking door-to-door, working at a campaign office, and calling constituents."
Liu also stressed the importance of volunteering, having started her career as a campaign assistant for Anne Lagacé Dowson in Westmount-Ville Marie and for Thomas Mulcair in Outremont. "NDP McGill gave me occasions to campaign on the ground by understanding how campaigns work and the political process around election time," reveals Liu. "That gave me a lot of skills and experience which have definitely helped me as an MP."
Liberal McGill draws upon its close link with the office of Marc Garneau, MP for the constituency encompassing McGill, to provide its members with valuable opportunities. "We accompany Marc Garneau on his door-to-door canvassing and volunteer at phone-blitzes," explained Kadri. Members of Liberal McGill often intern with the Liberal Party of Canada or MP offices. "All it takes is volunteering for one election campaign and other opportunities will spiral very quickly from there," she mused.
Meanwhile, Conservative McGill uses its ties to the governing party of Canada to provide its members with a network of exclusive internships. The Conservative Party Internship Program accepts 90 candidates across Canada, and this past summer 9 McGill students gained admittance. Interns are placed in various positions in government, ranging from working in parliamentary affairs to the Prime Minister's Office.
Each group is highly involved in the upcoming federal by-elections on November 25th in the Bourassa riding, volunteering for their respective candidates. Volunteers have been drawn from each club at McGill to assist in canvassing and donation drives. Moreover, NDP McGill is considering sending over a team of its anglophone delegates to assist Linda McQuaig in the Toronto-Centre by-election slated for the same day.
Every election year, the same story is told: young Canadians are politically apathetic. With only 38.8 percent of Canadians aged 18-24 casting their ballot in 2011, it is true that young people vote at significantly lower rates than the rest of the population. A perceived generational divide between young people and the agenda of the nation perhaps explains the diminutive voter turnout among our peers.
However, it appears there may be more to the story. A sizeable population of McGill students are actively involving themselves politically. While the aforementioned stories of the "McGill Five" and Antoine Tardif exist heavily in the spotlight, the vast majority of those actively engaging spend their time on the grassroots level. Be it through door-to-door canvassing, volunteering at a constituent's office, or assisting donation drives, motivated McGill students are already making their mark on the political system.
UPDATE 04/11/2013: Antoine Tardif won the mayoralty of Daveluyville with 66% of the vote.